All my life I told myself I wasn't a runner. I hated huffing and puffing, and I could NEVER run that 8 minute mile in middle school gym class, which earned me a B on the "assignment". Being a straight-A sort of girl, that really didn't do much to make me feel good about my ability to run.
A year and a half ago I had my third knee surgery, which was my second ACL repair on my left knee. A (at the time) 24-year-old really shouldn't already be getting her third knee surgery... My boyfriend helped me realize that if a pro athlete can get the same injury as me, and be playing pro sports again within months, why can't I run? I had always blamed the impact feeling bad on my knee, but if I keep up with my physical therapy, that really shouldn't be an issue!
I set my sights on the Bolder Boulder, one of the biggest 10k's, held right here in Boulder every Memorial Day. Five and half months after that surgery, I did the 10k. I did not run the whole thing - heck, I didn't even jog most of it. But I DID finish it, and I wasn't the slowest one.
A little while after that, I discovered that Disney World was adding a 10k to their Princess Half Marathon weekend. The half marathon was a bit much for me to swallow (and a bit out of our price range), but the 10k sounded perfect - not to mention that it took place in and around Epcot. If there is one thing you should know about me, it's that I am absolutely head-over-heels in love with everything Disney. So I signed my boyfriend, my sister and me up for it, and started to train so that I could jog a good portion of it.
Fast forward to last February (Presidents Day weekend). They have three races - a 5k, 10k and half-marathon - and an Expo that runs through the weekend at the ESPN Wide World of Sports. The Expo is where you pick up your badge and T-shirt, and anything else you may have ordered when signing up. My sister and I are pin collectors, so we each got an Enchanted 10k pin. There are also a bunch of shops where you can get extra RunDisney gear, cute running skirts and princess gear. New Balance even made special shoes for the occasion. It took a lot of will power not to let myself buy the shoes or anything else, because in reality we had already spent hundreds of dollars each to get down there and just do the race. I had decided to make the running skirts you see me and Maddie wearing, and (for now) hold off on new shoes (my closet is already full...) Next time I go, I will hopefully be ready for the half-marathon AND I'll be rich so I can buy all the shoes I want ;)

On race day we woke up super early and waited around for a while, but finally we started off, running along the streets, finally into Epcot, a little bit behind the scenes, and finished just outside the entrance to the park. Along the sidelines, characters were cheering us on and you could even stop for a photo op. I didn't run the whole way, and my pace was nowhere near where I hope it will be someday, but I DID make a personal best that day. Plus, I got to celebrate by being in Disney World with two people I love very much. Doesn't get much better than that.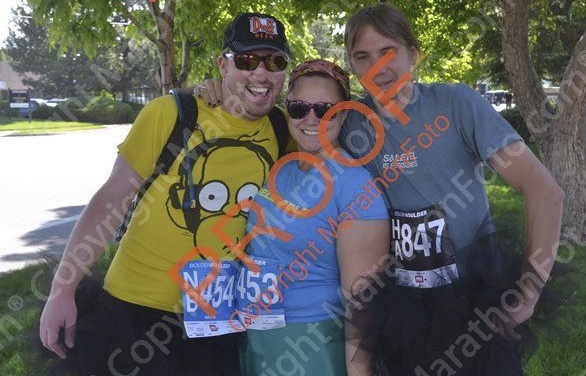 In May, I did my third 10k. Unfortunately I was super sick (I had been coughing uncontrollably the whole week before), but I walked the whole thing sucking on Halls cough drops. I don't think I could have run it while sick unless I wanted to make myself even sicker. Before I got my cold, though, I had been regularly going for a jog a couple times a week and was super excited to hopefully make another personal best.
These may pale in comparison to other people's experiences and paces and achievements, but my experiences mean a lot to me. I also know that I still have a long way to go. I still sort of dislike running - it's harder on my body than biking or the elliptical - but I don't hate it the way I used to. It's something I can do with my dog or people I love. I can do it inside or outside, depending on the day. I can listen to audiobooks, podcasts or music of my own choosing. It's exciting to have such freedom in such a healthy activity.
I can tell you that these won't be my last 10k's, and I look forward to the mini milestones (and hopefully bigger ones) that I come to with each race.
*Note to MarathonFoto - I would possibly consider buying your pictures if they were more affordable or possibly if I could package together a few people's pictures. I will not be spending $70 a person to get a few pictures, because I cannot afford such frivolous things in my life at this time. I like what you do, but there were only about a half-dozen pictures of me and my boyfriend at each BB10k, spread over two runners, and that many pictures is not worth $140. There were just over 40 pictures from the Enchanted 10k, but $210 is a bit steep for me. I understand that this is the business model you've chosen, but for now, I will live with the watermarks on my face.